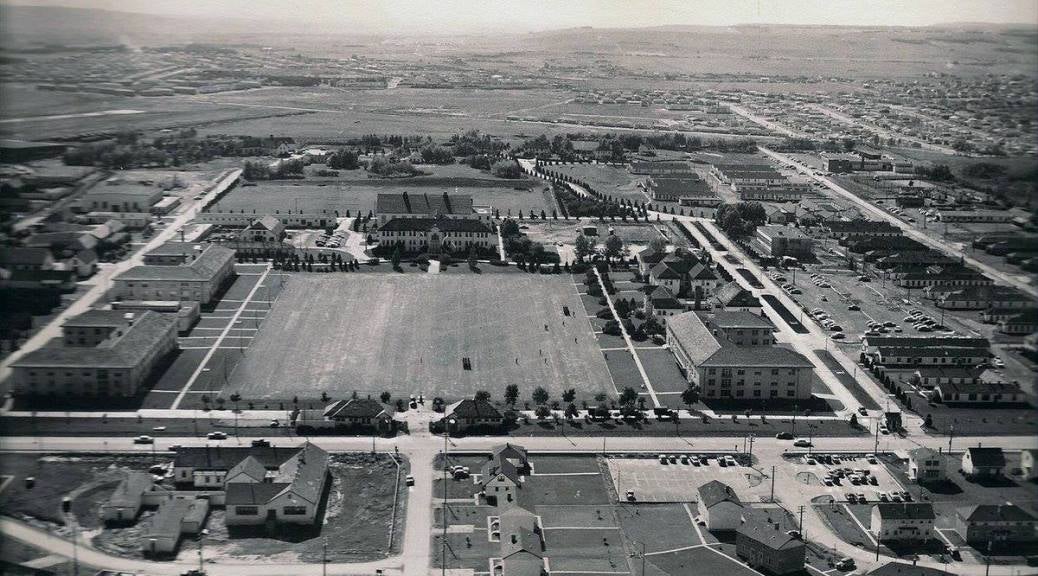 ** photo credit:  
The Queens Own Rifles of Canada Regimental Museum and Archives.
As one of Calgary's most historically notable sites in Calgary - The Currie Barracks came to be in the 1930s during the height of the depression.  For the times a nearly 1.5 million dollar budget was an unthinkable number for many.  Providing construction jobs for a community suffering through a depression surely helped in the early development of an ongoing kinship between Calgarians and the Canadian Armed Forces. Through the years the base grew and became home to more and more military units; but no matter how large to base, and the families on it, became they always remained
 an integral part of the Calgary community.  Things stayed that way 
until the base was eventually decommissioned in 1997.  When you drive through the community today you can still feel the pride and presence that some say is attributed back to those early days!  
So aside from just the really cool history of the area...  
Here are my Top 3 Reasons the Currie Barracks District is Cool Place To Live...
Yup, you guessed it – this is a general theme in my world!  If you're not living somewhere that is convenient for your life, somewhere that has everything you need close by and somewhere that just makes you feel at home then what are you doing there!
The Currie Barracks District is situated so centrally in Calgary that you can be almost anywhere you need or want to be in no amount of time! With Crowchild, Sarcee, Glenmore and Bow Trail at your doorstep getting around is s breeze.  If you work downtown the commute to work is short, nightlife on 17th is just moments away and you have a variety of shopping areas at your fingertips. The Currie Barracks has

Location

in the bag!       
So, on top of being close to everything and everywhere you might need, let's talk about how it is to live in a place that feels great too!  This community has a refreshing vibe, and looking at what is still in the plans I think it is safe to say it's only going to get better!
There will be properties to suit everyone!  When completed the community will have a rich mixture of luxury estate homes, more modest - but still snazzy - family homes, modern rowhouses, and even many one-bedroom condos to suit students who attend neighbouring Mount Royal University!  One thing they will all have in common is the beautiful custom-built feeling that extends through this community -  built with a style and comfort in mind.  From luxurious brick and stone exteriors,
quaint historically inspired light posts that line the streets to the lush greenery that already gives the community a sense of age and history. Nothing in this community feels average.
By the time the Currie Barracks is complete, it will be a thriving epicenter for inner-city living, with spaces planned not only for residential homes but business and retail as well.  There will be a main street much like other inner-city hubs, - M

arda Loop, Kensington, Inglewood - 

 the Currie Barracks main street will become home to great shops, businesses, and other attractions.  Plans to develop a central market will be the icing on the cake when it comes to bringing life and vibrancy to this already feel-good community.

#3)   

 

Green is Good!
So, if we have the all-important location - and we can check off Vibe- then the only thing we still need to talk about is the GREEN!  By green, of course, I mean the perfect balance between a great inner-city lifestyle and the ability to still connect with clean air, cool grass, and flowing waters!  Families, retirees, and singles alike will appreciate the ample walking paths, green spaces, and parks that have been thoughtfully included in the community development plan for the Currie Barracks. The developers have done a great job of recognizing the importance of leaving these spaces for all to enjoy, a way to escape the concrete jungle of the city.  
If the water is more your thing then checking out the Glenmore reservoir for some Dragonboat racing, walking the dogs along the Elbow River or a family bike along the Bow River are all great options at your doorstep. 
So there you have it... Location, Vibe and Green all in one location.  
The Currie Barracks is a great new development for an area of the city with such a rich history to share!  I hope you take some time a check it out – I'm sure you will be glad you did!
Check out my recent listing for this gorgeous, modern one bedroom condo in the "Axxes of Currie Barracks"! This is where it's at
click here!